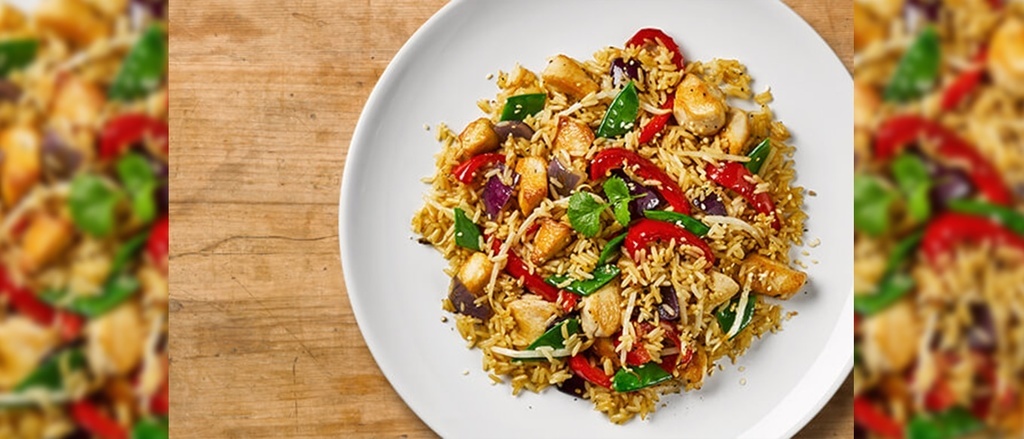 You can feed a family of four in just 20 minutes with this Asian-inspired combo of chicken breast, veggies and sauces.
INGREDIENTS
2 Tablespoons cooking oil
1 pound chicken breast, boneless and skinless, cut in thin strips
2 large red or yellow bell peppers, sliced
1 large onion, sliced
2 cups bean sprouts
1 cup snow peas, cut in 1-inch pieces
2 Tablespoons water
2 Tablespoons soy sauce, low sodium
1 tsp fish sauce (optional)
2 pouches Ben's Original™ Ready Rice, Whole Grain Brown
2 Tablespoons sesame seeds
INSTRUCTIONS
1

In a large nonstick skillet, heat oil over medium-high heat. Cook and stir chicken, peppers and onion 4 to 5 minutes or until vegetables soften and chicken is no longer pink.

2

Stir in bean sprouts and pea pods; cook 1 minute. Stir in water, soy sauce and fish sauce.

3

Meanwhile heat rice as directed on package. Stir into chicken mixture, heating about 2 minutes until thoroughly combined. Garnish with sesame seeds.
Nutrition:
CALORIES: 400
TOTAL FAT: 14g - 18%
SATURATED FAT: 2g - 10%
TRANS FAT: 0g
CHOLESTEROL: 85mg - 28%
SODIUM: 540mg - 23%
TOTAL CARBOHYDRATES: 36g - 13%
DIETARY FIBER: 6g - 21%
TOTAL SUGARS: 9g
PROTEIN: 33g
LIKE THIS RECIPE?
Get started with this $1 off coupon