RECIPE
Easy Chicken Fried Rice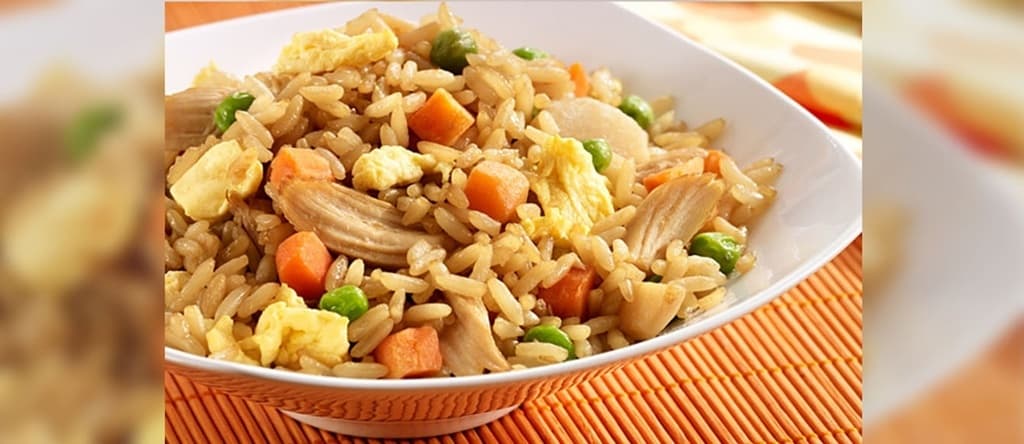 If your local Chinese restaurant made fried rice like this, you'd want to eat there every day! This recipe brings you the flavors of water chestnuts, La Choy® Soy Sauce and eggs. Dig in!
INGREDIENTS
2 pouches Ben's Original™ READY RICE™, Long Grain White
2 tablespoons cooking oil
1 (8 ounce) can sliced water chestnuts
1 cup chicken breast meat, cooked and cut in cubes
2 cups frozen peas and carrots, thawed
2 1/2 tablespoons soy sauce, reduced sodium
1/2 tablespoon garlic powder
2 large eggs
PRODUCTS USED
Ben's Original™ Ready Rice™ Long Grain White Rice
INSTRUCTIONS
1

Heat oil in a large skillet over medium-high heat. Massage pouches of rice to separate grains. Pour into skillet and cook for 7 minutes or until lightly browned, stirring occasionally.

2

Stir in water chestnuts, chicken, peas and carrots, soy sauce and garlic powder. Cook 3 to 4 minutes or until hot, stirring occasionally.

3

Push rice mixture to one side of the skillet. Add the eggs to empty side and quickly stir to scramble without mixing into the rice. Once eggs are set, stir into the rice mixture, remove from heat and serve.
Nutrition:
CALORIES: 290
TOTAL FAT: 11g - 14%
SATURATED FAT: 2g - 10%
TRANS FAT: 0g
CHOLESTEROL: 80mg - 27%
SODIUM: 520mg - 23%
TOTAL CARBOHYDRATES: 29g - 11%
DIETARY FIBER: 4g - 14%
TOTAL SUGARS: 1g
PROTEIN: 19g
LIKE THIS RECIPE?
Get started with this $1 off coupon.