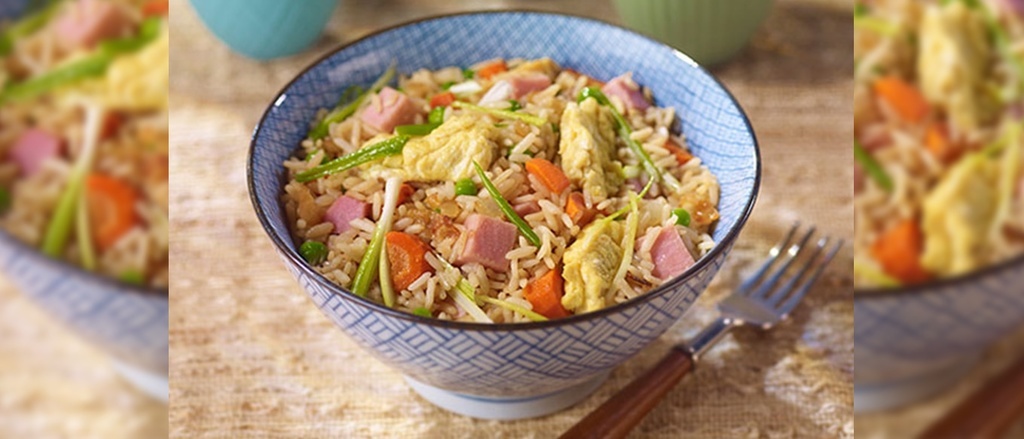 Satisfy your family with this unique fusion of Mexican and Asian flavors, like soy sauce, veggies and lechon asado.
INGREDIENTS
2 cups Ben's Original™ Long Grain White Rice, cooked
1 Tablespoon cooking oil*
2 large eggs
2 Tablespoons soy sauce*, reduced sodium
1/4 cup chicken broth*, low sodium
1 cup onion, chopped
11/2 cup carrot, chopped
2 cloves garlic, minced
1 1/2 cups lechon asado (or cooked ham), diced
1 cup frozen peas
1/2 cup green onions, chopped
INSTRUCTIONS
1

Cook rice according to package directions.

2

In a small bowl whisk eggs together with 1/2 Tablespoon of the soy sauce and 1 Tablespoon of the chicken broth.

3

Add 1 Teaspoon of the oil to a large skillet over medium heat. Add egg mixture and let cook 2-3 minutes. Turn and cook about 1 minute more until egg is cooked through. Transfer to a plate, cut into thin strips, and set aside.

4

Return pan to medium heat, add remaining oil and sauté onions and carrot until mostly soft, about 4 minutes. Stir in garlic and cook 2 minutes more.

5

Add precooked rice and remaining soy sauce to the pan with vegetables. Stir well and slowly pour in the remaining chicken broth a little at a time, allowing the rice to absorb the liquid.

6

Add cooked egg slices, diced lechon asado, and green peas, stirring to combine. Cook a few minutes more until ham and peas are heated through.

7

Remove from heat, top with green onions and serve.

*

This ingredient is divided between steps.
NUTRITION
CALORIES: 400
TOTAL FAT: 20g - 26%
SATURATED FAT: 5g - 25%
TRANS FAT: 0g
CHOLESTEROL: 125mg - 42%
SODIUM: 540mg - 23%
TOTAL CARBOHYDRATES: 35g - 13%
DIETARY FIBER: 4g - 14%
TOTAL SUGARS: 6g
PROTEIN: 17g
LIKE THIS RECIPE?
Get started with this $1 off coupon.