RECIPE
Fully Loaded Jambalaya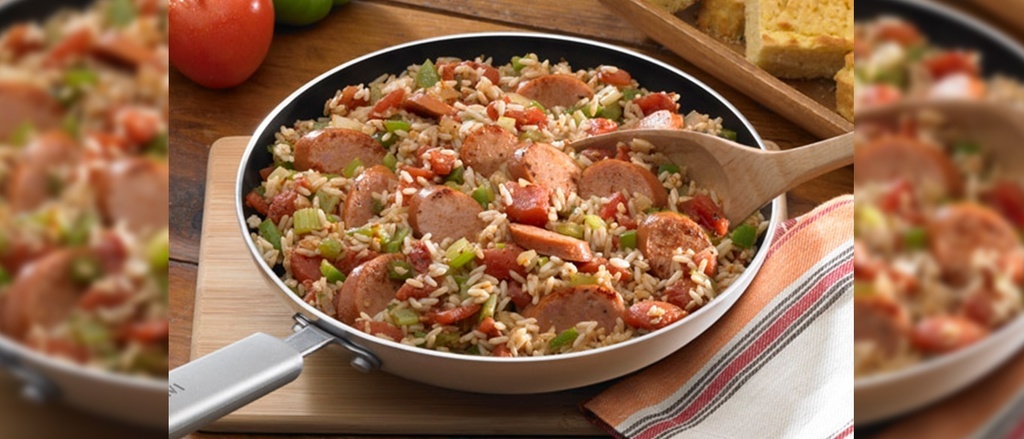 Bring a touch of New Orleans to your kitchen with this classic Creole dish featuring Johnsonville® Andouille Sausage.
INGREDIENTS
1 pouch Ben's Original™ Ready Rice™ Long Grain White Rice
1 link chicken Andouille sausage
2 Tablespoon cooking oil
1 small onion, diced
1 large green bell pepper, diced
2 ribs celery, diced
2 cloves garlic, minced
1 Tablespoon Cajun seasoning
1 (14 ounce.) can chopped tomatoes, low sodium
INSTRUCTIONS
1

Heat oil in a large skillet over medium heat. Add onion, green pepper, celery and Cajun seasoning. Cook and stir until vegetables are beginning to soften, about 4 minutes.

2

Add sausage and garlic to the pan with the vegetables and cook until sausage is browned, about 5 minutes more.

3

Massage the pouch of rice to loosen the grains and add rice and canned tomatoes to the pan and continue cooking and stirring until heated through and most of the liquid is absorbed.
Nutrition:
CALORIES: 470
TOTAL FAT: 22g - 28%
SATURATED FAT: 3.5g - 18%
TRANS FAT: 0g
CHOLESTEROL: 45mg - 15%
SODIUM: 600g - 26%
TOTAL CARBOHYDRATES: 56g - 20%
DIETARY FIBER: 6g - 21%
TOTAL SUGARS: 11g
PROTEIN: 12g
LIKE THIS RECIPE?
Get started with this $1 off coupon