RECIPE
All American Stuffed Peppers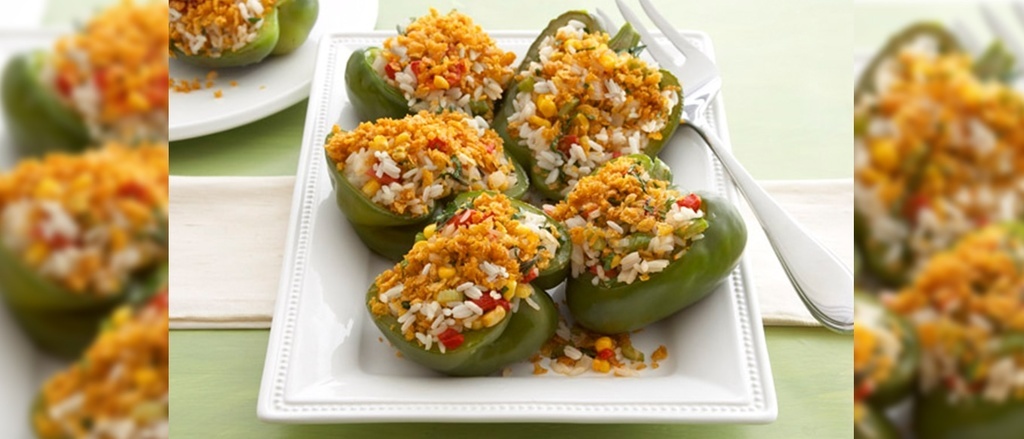 This recipe is as American as cornflakes because of the not-so-secret ingredient that gives this dish its unique flavor.
INGREDIENTS
4 cups Ben's Original™ Long Grain White Rice, cooked
1 Teaspoon salt
3 large bell peppers, cut in half lengthwise and seeds removed
2 Tablespoons unsalted butter
1 cup onion, chopped
1 cup celery
1 clove garlic
1 cup frozen corn, thawed
1 (14 ounce) can chopped tomatoes, low sodium, drained
1/4 cup parsley, chopped
1 Teaspoon dry rosemary, crushed
1/4 cup cornflakes, crushed
INSTRUCTIONS
1

Preheat oven to 350°F. Butter a rectangular baking dish and place peppers, cut side down, in the baking dish and place inside the oven while it preheats to soften the peppers, about 10-15 minutes.

2

Cook rice according to package instructions.

3

Heat a large skillet and 2 Tablespoons butter over medium heat. Sauté onion, celery and garlic until tender, about 5 minutes. Add corn, tomatoes, parsley, rosemary, salt and cooked rice to the skillet, stirring until heated through, about 2 minutes.

4

Remove baking dish from the oven, carefully turn peppers so the cut side is up, and fill each with an equal portion of the rice mixture.

5

Sprinkle crushed cornflakes over the peppers, return to oven and bake uncovered 12-15 minutes.
Nutrition:
CALORIES: 210
TOTAL FAT: 4g - 5%
SATURATED FAT: 2.5g - 13%
TRANS FAT: 0g
CHOLESTEROL: 10mg - 3%
SODIUM: 470mg - 20%
TOTAL CARBOHYDRATES: 39g - 14%
DIETARY FIBER: 3g - 11%
TOTAL SUGARS: 7g
PROTEIN: 5g
LIKE THIS RECIPE?
Get started with this $1 off coupon