RECIPE
Wild Rice Chicken Supreme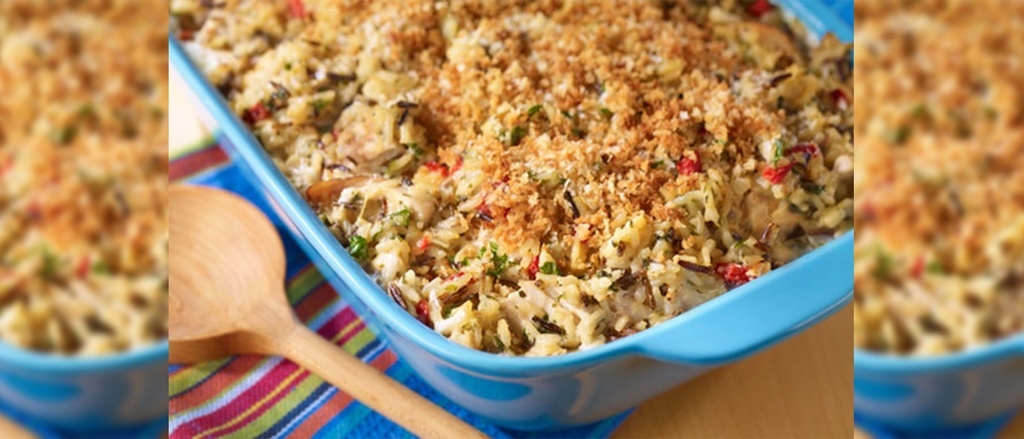 A tasty, mouth-watering rice and chicken casserole.
INGREDIENTS
1 box Ben's Original™ Long Grain & Wild Rice, Original Recipe
3 Tablespoons butter, unsalted
1/2 cup onion, chopped
1/3 cup all-purpose flour
1/2 teaspoon salt
1 teaspoon ground black pepper
1 cup 2% Milk
1 cup chicken broth, low sodium
2 cups chicken breast meat, cooked and chopped
2 cups red bell pepper, diced
1/2 cup fresh parsley, chopped
1/4 cup almonds, slivered
1/2 cup panko breadcrumbs
PRODUCTS USED
Ben's Original™ Long Grain & Wild Rice Original Recipe
INSTRUCTION
1

Preheat oven to 425°F.

2

Cook rice and contents of seasoning packet according to package directions.

3

While rice is cooking, melt the butter in a large saucepan. Add onion and red bell pepper, cook over low heat until tender. Stir in flour, salt and pepper.

4

Gradually stir in milk and broth. Cook, stirring constantly, until thickened.

5

Remove from heat, stir in chicken, parsley, almonds, and cooked rice.

6

Pour into a 2-quart baking dish, top with panko bread crumbs, and bake for 20 minutes uncovered.
NUTRITION
CALORIES: 380
TOTAL FAT: 17g - 22%
SATURATED FAT: 6g - 30%
TRANS FAT: 0g
CHOLESTEROL: 60mg - 20%
SODIUM: 600mg - 26%
TOTAL CARBOHYDRATES: 36g - 13%
DIETARY FIBER: 2g - 7%
TOTAL SUGARS: 6g
PROTEIN: 22g"
LIKE THIS RECIPE?
Get started with this $1 off coupon