RECIPE
Garlic Chicken & Rice Recipe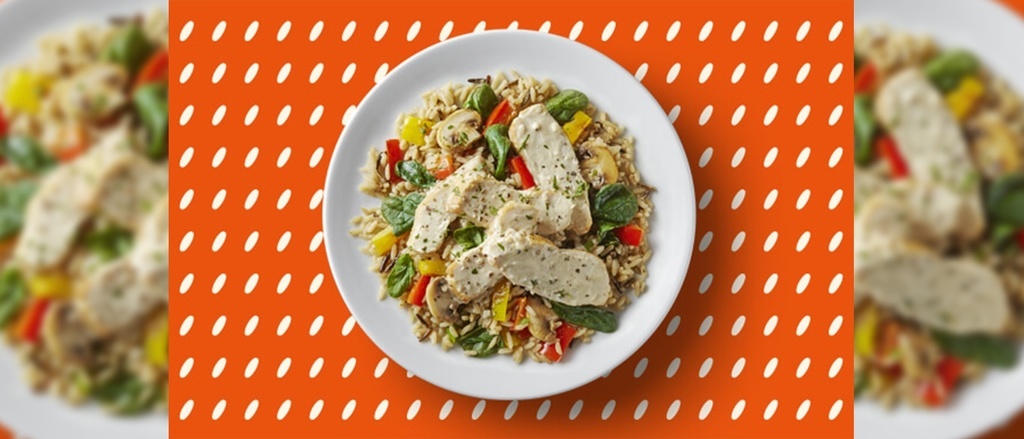 A delicious Dijon and lemon chicken dish that takes advantage of seasonal veggies like spinach, mushrooms and peppers.
INGREDIENTS
3 cups seasonal mixed vegetables (spinach, peppers, asparagus, mushrooms), chopped
2 teaspoon cooking oil*
1 pouch Ben's Original™ Ready Rice™, Long Grain & Wild
4 small chicken breasts, boneless and skinless
1 teaspoon course salt*
1/2 teaspoon ground black pepper*
1 teaspoon dried thyme
1 teaspoon onion powder
4 cloves garlic
1/4 cup chicken broth, low sodium
1/2 cup heavy cream
1 lemon, zest and 2 Tbsp juice
1 1/2 teaspoon Dijon mustard
INSTRUCTIONS
1

Season chicken breasts with 1/2 tsp. of the salt, half the pepper, thyme and onion powder. Set aside.

2

Heat 1 tsp. of the oil in a large skillet over medium-high, add the vegetables and sauté for 3 to 4 minutes until tender crisp. Massage the pouch of rice to loosen grains and add with 1 Tbsp. water to the pan, stir and cook about 2 minutes more to heat through. Remove from pan, set aside and keep warm.

3

Return pan to medium-high heat, add chicken and cook for 3 to 4 minutes per side to brown. Remove from pan and set aside, leaving drippings in the pan.

4

Return the pan to the heat and add minced garlic, sauté for 30 seconds. Add chicken broth, heavy cream, remaining 1/2 tsp. salt, and the remaining pepper. Bring to a low simmer, then stir in the lemon zest, juice, and Dijon mustard. Cook for 1 minute.

5

Return the chicken to the pan with sauce, turn to coat, cover and simmer until the chicken is cooked through and internal temperature is 165°F, about 3-4 minutes more. Remove chicken from the pan, let rest for a 3-5 minutes, slice and add back into the sauce.

6

Arrange the rice and vegetable mixture on a plate and top with chicken and sauce. *This ingredient is divided between steps.
NUTRITION
CALORIES: 260
TOTAL FAT: 12g - 15%
SATURATED FAT: 5g - 25%
TRANS FAT: 0g
SODIUM: 590mg - 26%
CARBOHYDRATES: 18g - 7%
DIETARY FIBER: 2g - 7%
SUGARS: 3g
PROTEIN: 21g
LIKE THIS RECIPE?
Get started with this $1 off coupon