RECIPE
Long Grain & Wild Rice Soup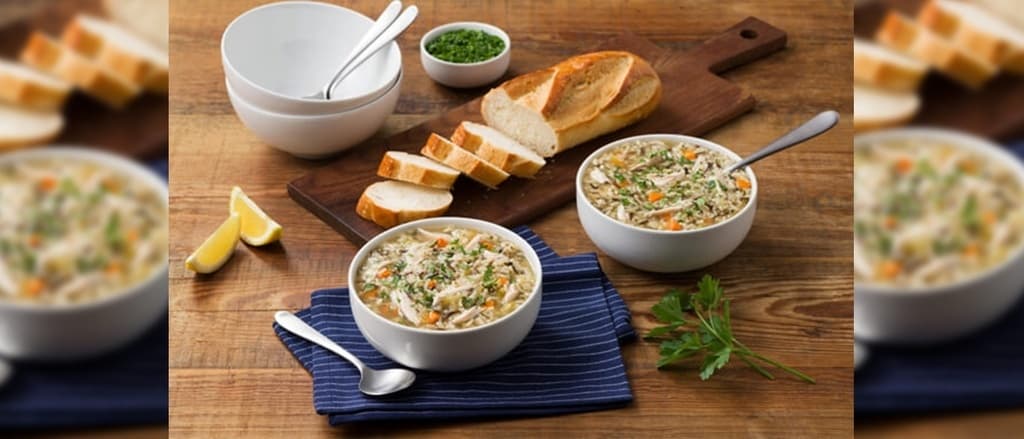 Soup's on! This soon-to-be-favorite recipe is prepared with chicken or turkey (your choice) and a touch of sherry.
INGREDIENTS
1 box Ben's Original™ Long Grain & Wild Rice, Original Recipe
1 Teaspoon cooking oil
1 cup onion, diced
2 cups celery, chopped
2 cups carrots, chopped
1.4 Teaspoon salt
1/4 cup dry sherry
3 Tablespoons all-purpose flour
4 cups chicken or vegetable stock, low sodium
1 1/2 cup cooked chicken or turkey, chopped
1 Teaspoon lemon juice
PRODUCTS USED
Ben's Original™ Long Grain & Wild Rice Original Recipe
INSTRUCTIONS
1

Cook rice according to package instructions, set aside.

2

While rice is cooking add oil to a large pot over medium heat. Add onion, carrots, celery, salt and sauté 5 minutes or until softened. Add the sherry and cook until the liquid is gone.

3

Stir in the flour to coat the vegetables evenly. Gradually add the broth and bring to a simmer.

4

Stir in the chicken and rice, let simmer 2-3 minutes more or until chicken is warm.

5

Add the lemon juice, and season with salt and pepper as desired.
Nutrition:
CALORIES: 250
TOTAL FAT: 4.5g - 6%
SATURATED FAT: 1g - 5%
TRANS FAT: 0g
CHOLESTEROL: 20mg - 7%
SODIUM: 600mg - 26%
TOTAL CARBOHYDRATES: 35g - 13%
DIETARY FIBER: 2g - 7%
TOTAL SUGARS: 4g
PROTEIN: 17g
LIKE THIS RECIPE?
Get started with this $1 off coupon