RECIPE
Ben's Original™ One-Pot Spanish Style Chicken & Whole Grain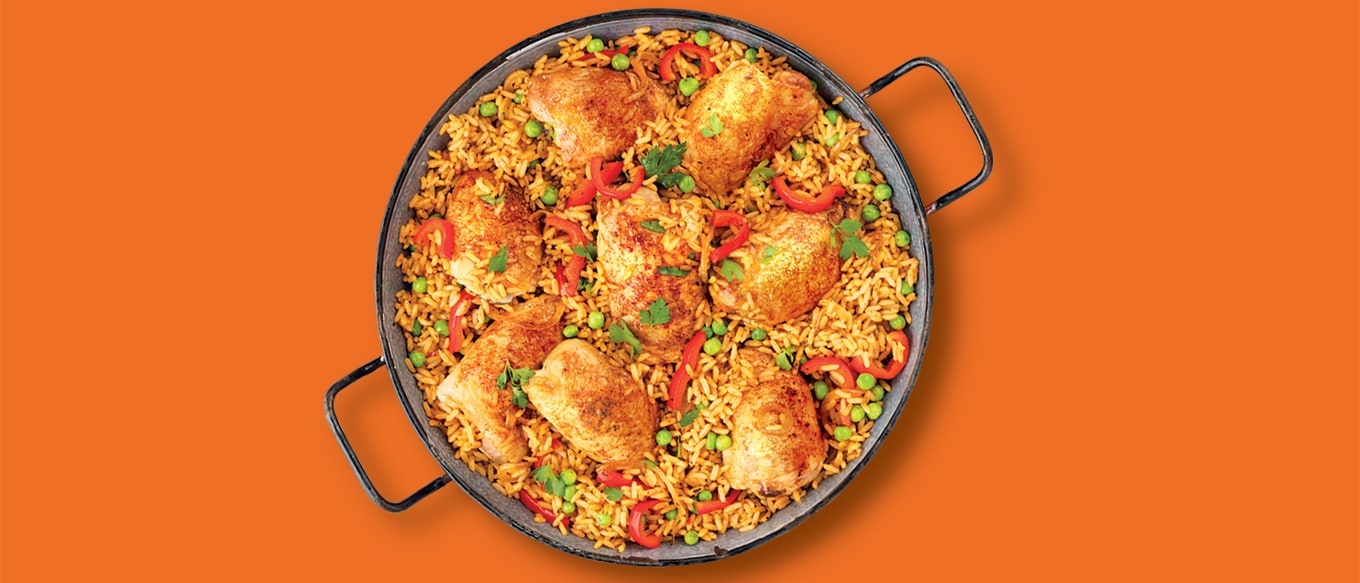 With chicken, beans and flavorful rice, this Spanish-inspired meal is so simple and so hearty at the same time.
INGREDIENTS
1 cup Ben's Original™ Instant Brown Rice
1 Tablespoon cooking oil
1 pound chicken thighs, boneless & skinless
2 Teaspoons paprika*
1/2 Teaspoon salt
2 cloves garlic
1 (14.5ounce) can diced tomatoes, undrained
1 1/2 cup chicken broth, low sodium or water
1 cup frozen peas, thawed
Optional garnish: sliced red bell pepper, parsley, lemon wedges
INSTRUCTION
1

Combine salt with 1 Teaspoon of the paprika, sprinkle evenly over chicken.

2

Heat 1 Tablespoon olive oil in a large cast iron or heavy skillet with a lid over medium-high heat. Add seasoned chicken to the hot pan and brown 2-3 minutes.

3

Turn chicken, add garlic and remaining 1 Teaspoon paprika to the pan and cook until fragrant, about 30 seconds. Add diced tomatoes, chicken broth, and rice. Mix well and arrange chicken on top of rice.

4

Bring to a boil, sprinkle with peas, then cover and reduce heat to simmer for 12-15 minutes, or until rice is tender and chicken is cooked through. Garnish with optional ingredients if desired and serve hot.
Nutrition
CALORIES: 390
TOTAL FAT: 10g - 13%
SATURATED FAT: 2g - 10%
TRANS FAT: 0g
CHOLESTEROL: 105mg - 35%
SODIUM: 600mg - 26%
TOTAL CARBOHYDRATES: 47g - 17%
DIETARY FIBER: 4g - 14%
TOTAL SUGARS: 5g
PROTEIN: 29g
LIKE THIS RECIPE?
Get started with this $1 off coupon